What is the Law of Attraction? What is the ultimate law of attraction definition? The Law of Attraction is the ability to attract what we focus on with our mind. It is believed that regardless of age, nationality or religious beliefs, we are all subject to the laws that govern the universe, including the law of attraction.
It is the law of attraction that uses the power of the mind to translate and reflect reality from our thoughts. In basic terms, all ideas eventually become things. If you focus on negative pessimism, you will stay under that cloud. If you focus on positive thoughts and have goals that you intend to achieve, you will find a way to achieve them.
That is why the universe is an infinitely beautiful place. The Law of Attraction dictates that anything imaginable and kept in the mind can be achieved if you take action on a plan to get to the level you want.
The Law of Attraction is one of the greatest mysteries of life. Very few people are fully aware of how the law of attraction affects their daily lives. Whether we do it with or without knowledge, every second of our existence, we act like a human magnet that sends out thoughts and emotions and attracts us more than we gave out.
Unfortunately, many of us are still unaware of the possibilities that deeply besiege us. Hence, it is very easy to let your thoughts and feelings roam out of control. This builds strong neural pathways of wrong thoughts and brings more unwanted emotions and events into your life.
"What is the Law of Attraction? I ask again: What is the Law of Attraction? We like things to manifest right away, and they may not. Many times, we're just planting a seed and we don't know exactly how it is going to come to fruition. It's hard for us to realize that what we see in front of us might not be the end of the story." — Sharon Salzberg
When we use the law of attraction, we can all achieve whatever we desire. We decide what we want and manifest ideas that are in line with those desires. If we are able to reflect the feelings of what we desire that it will manifest.
"No exceptions." Feelings are more important because they attract to us experiences and events that are in line with them. If we maintain feelings of prosperity, then we create more conditions that evoke those feelings in the future. If our feelings reflect health and love, then we create it in our future.
The opposite is also true. A lack of prosperity based emotions creates conditions that bring more lack in the future. We can understand why Jesus commanded people not to be concerned or worried. When we are anxious, we gain nothing. According to the Law of Attraction, we lose because we create more situations that cause us to be anxious.
How to apply the Law of Attraction
We have to deliberately choose positive thoughts to create positive experiences in our lives. If we want more money in our lives, we must choose ideas of prosperity and put them in our minds. The same is true if we want truly happy relationships. We have to show positive feelings about the love we are looking for. Feel the emotion you would feel when you have the person of your dreams and you will attract him or her.
Our work, our effort is a positive projection. We should always manage any thoughts we think of. We have to find a way to think and maintain positive feelings about what we want. We will attract what we want in our lives if we have that energy and vibration.
Successful people are those who think successful thoughts. Do your research. They attracted positive experiences that others considered impossible because they maintained a "prosperity" vibration. They are empowered through their thoughts and feelings and create a desire to consciously live life in abundance.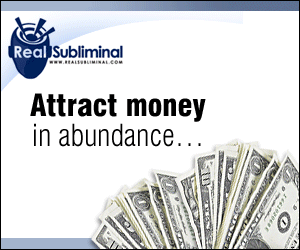 It is not about what you think you deserve or what you think you do not. Its only about the thoughts you think and what feelings emanate from you. There are so many people that society can judge that they don't deserve wealth, but they become richer. Maybe you know lucky people who won the lottery or inheritance, or what seemed like a stupid idea turned into a financial fortune.
Through their thoughts, these people attracted wealth to them. They have become richer than they expected through their ideas, whether intended or not.
Being intentional when thinking about financial prosperity, love or health creates the conditions we desire in our lives. We become an artist who knows the image he wants to put on paper. Do not be surprised by the final article because you knew it in thought.
We can know what we want in every area of ​​our life and project through our thoughts and feelings. The conditions will be arranged to match that and we should not be surprised by the results.
Do this exercise. Maintain joy in your heart in one day and see what happens on that day. With all your strength, keep this happy feeling with your heart and soul. You will find that good things come easier and easier for you. People are kind to you and you have fun. Grow your self-confidence and generally feel comfortable. This should make it clear to you that ideas turn into things very quickly.
Learn more about using positive emotions with the law of attraction here.
What is the Law of Attraction?
The results of positive thoughts are always positive. The same applies to negative thoughts, which always lead to bad results. In an interview with Larry King, Oprah Winfrey described the success of her Law of Attraction in her life.
Oprah attributes her success largely to her understanding about life. She believes thoughts are things. She is also not the only famous and successful person to use the system. Will Smith, Jim Carrey and Arnold Schwarzenegger, among others, worked with the Law of Attraction and achieved great success thanks.
Some people think they are the product of everything that happened to them. This is called an external place of control because these people believe that they do not control their lives. The goal of treatment is for patients to realize that they have an internal control position.
The Law of Attraction works in the same way. The truth is that your thoughts and feelings affect the events that happen around you. A change in your perspective and understanding of the truth about your relationship to the universe can begin to attract better things into your life.
Think of the law of attraction as you would the law of gravity. Throw a penny from your roof, landed on the floor. Try to jump from the sofa, you will touch the ground. Gravity is a constant law of our universe. Understanding the law of gravity allows you to predict what will happen. The Law of Attraction works in the same way.
The law of attraction works when you are along a positive, vibratory wavelength. Have you ever felt optimism deep inside you and something good is just around the corner? This feeling is what we must focus on to live our deep desires and dreams.
Things in our world tend to migrate to other similar things. We use the word "things" here because this law includes thoughts, feelings, people, things, and everything else in our world. It is a universal principle, and therefore it applies to all things that an moment attracts. It is a simple universal principle.
However, the better you understand this, the more you can start to anticipate and expect what will happen to you. Being aware of the law of attraction can change your life.
When people discover the Law of Attraction, many mistakenly think that it's designed so that you only care about yourself. We are often taught in religion to put the needs of others ahead of us. However, many misinterpreted the law of attraction, believing it teaches us to neglect the needs of others and focus on ourselves.
But by learning to find happiness in your life, you will gain the strength and confidence you need to help others. A poor person can't help another poor person. Only a healthy person can help a sick person.
Just like the "cause" of the law of gravity is complex and difficult to understand (unless you are a theoretical physicist), the "why" of the law of attraction is also somewhat complicated. Gravity remains a mystery to scientists. We understand that gravity prevents us and everything else on Earth from floating, but the exact "cause" is a complex matter. The law of attraction is similar.
As with all laws in our world, we understand that these laws work, although we do not necessarily understand why. Knowing and thinking that you can do something will motivate you to do so. It's like the old good "pretending to get it." How does the Law of Attraction work in this context? If you think you are positive, you will get a positive result, and vice versa. It means "You are what you think".
Think of two drops of water moving slowly towards each other. What happens when they come close? In the end, they come close enough to attract each other and become one drop of water instead of two separate drops.
This is caused by a similar vibration. Now, think about the same phenomenon with a drop of water and a drop of oil. No matter how close you are, they won't become one. This is because their vibrations are completely different from each other.
If you want to achieve something in your life, no matter what it is, start vibrating at a level that matches that reality.
This is a secret method of using meditation with the law of attraction. You will "what is the law of attraction?" when you practice this method.
Understanding What is the Law of Attraction
One word of caution is that although visualization plays an important role in training a person's mind to attract what he wants, he cannot simply visualize what he wants and make it fall into his arms. There must be a channel for what you want to make its way into your life.
Many people tend to forget that this is not a quick fix. It is not a new formula for happiness. It is an ever-present part of life. So even if you don't know how to properly use the Law of Attraction, it still affects you.
For example, if you are a very passive person, you will wonder why only bad things happen to you. While his upbeat colleague seems to have the best luck and is always promoted, he ends up in a luxurious home, a beautiful wife, and a new car.
This is the law of attraction at work and it will work whether you use it consciously or not. Many people are surprised to discover this. After all these years of thinking that they only need luck to succeed, they finally realized that all of their misfortunes were due to their negative and negative mentality that the universe reflects to them in response.
What is the Law of Attraction? This probably the second best book I have read to answer the question. The best is the Secret by Rhonda Byrne. Other great books can be found below.