Doubt is part of the human condition, but it also undermines people and prevents them from building confidence. It also interferes with their ability to set and achieve goals that are important to them. This includes productive activities (such as work, home management activities, sports, leisure) and relationships (platonic and romantic, with friends, family, neighbours and colleagues).
Doubt inhibits affirmative action and leads to unnecessary anguish, suffering and avoidance.
Practice makes perfect. That statement rings truer when it comes to confidence than anything else. A good way to start building confidence in a certain area is to invest in it and work hard on it.
Many people give up when they think they are not good enough for a particular job or task. But I can tell you that deliberate practice is almost always a natural sound method for building confidence. If you are unsure about your ability to do something, speak to a large audience, contact a critical customer, start by testing your ability in a safe environment.
Testing yourself can be very beneficial and is highly encouraged because, in addition to building confidence, it also improves quality when you finally need to perform the task.
Self-confidence is important in all areas of our lives, yet many people struggle to find it. Unfortunately, this cycle can be daunting. People who lack self-confidence are less likely to succeed than if they focused their attention onto building confidence within their craft.
For example, you may not to go to a show that is conducted by someone who is exhibiting nervousness and looks very apologetic. On the other hand, someone who is very expressive, who raises his head, answers questions confidently, is more attractive. You feel comfortable around someone who is confident within their own skin. You unease when you are watching someone who is nervous. That energy is transferred.
Confident people inspire confidence in others. If you focus on building confidence, that energy is mirrored back to your audience, colleagues, your bosses, your customers, and your friends. And earning the confidence of others is a major key to success. Building confidence is of paramount importance if you want to be the best in whatever you do. Building confidence is what an elite mentality is made of.
People often feel less secure in new or potentially difficult situations. Perhaps the most important factor in building confidence is planning and preparing for the unknown.
If you are applying for a new job, for example, it would be a good idea to prepare for the interview. Plan what you would like to say and think of some of the questions they may ask you. You can practice your answers with friends or colleagues and get their feedback if you like. Or you can play the likely scenario in your head. You can do this until you feel comfortable and are not nervous about the interview.
Top sports personalities like Tiger Woods and Michael Jordan used visualization to imagine doing well in scenarios within a match. They were programming themselves to know they are brilliant at what they do. Whatever they found difficult to do would be played over and over in their minds until they felt comfortable doing it. Visualization became a tool for building confidence. You can learn more about using visualizing effectively in this article or also in this one.
Improve yourself. People who have taken the time towards building confidence are more effective at whatever they do. They are more likely to overcome barriers so that they are not afraid to face new barriers in the future. They recover quickly from setbacks because failure is seen as a way to grow and come back stronger. In general, believing in your abilities affects your motivation, your choices, your toughness, and your determination.
Therefore, high levels of confidence positively affects how well you perform, and how satisfied you are with the choices you make. This is why it's important to understand your current level of confidence, particularly in the context of your belief in your ability to perform in a variety of situations. In so doing, you will be able to identify areas where you can improve, and make a plan to do so.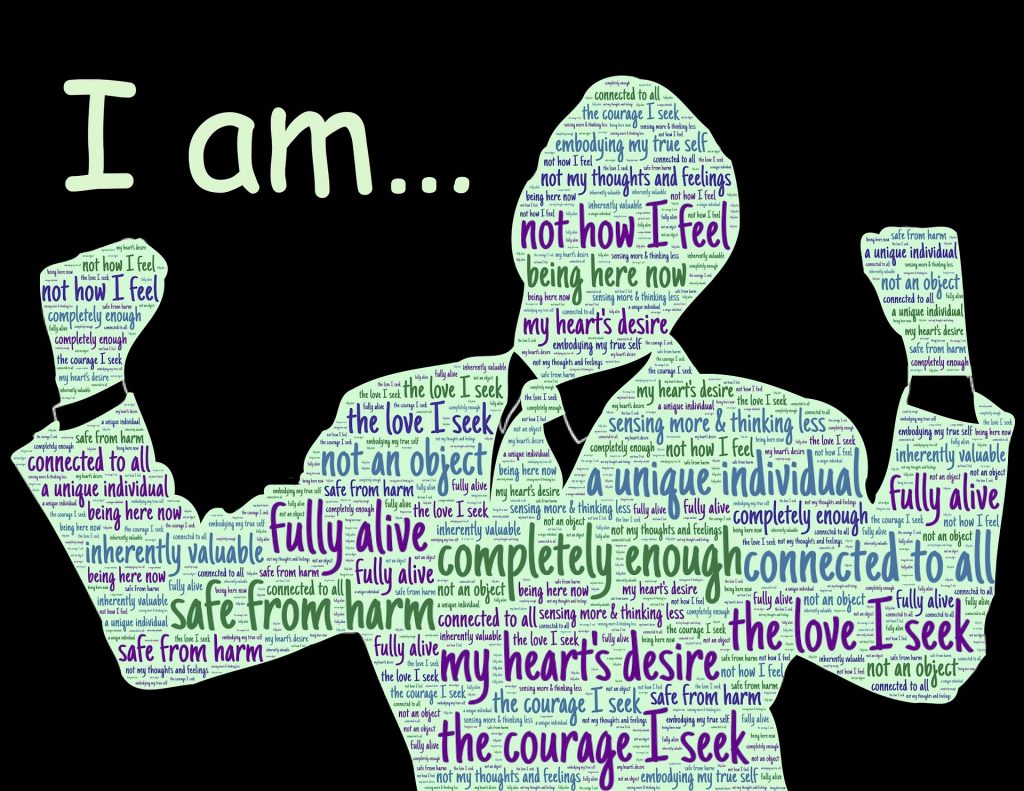 This self-confidence workbook has worked wonders for me!
Building confidence by managing your Emotions
Humans have a unique and incredible ability to experience a wide range of emotions. But if you let your emotions dictate your life experience without discovering why you feel in a particular way, you let your emotions control you. Over time, this affects how you feel and act every day. If you are driven by a feeling of well-being, you will radiate happiness and calm. If you are bogged down by negativity, those around you will feel your unhappiness and fear.
How can you avoid the latter? The truth is, you are completely in charge of how you feel, even if you feel safe or not. Once you understand that your feelings are under your control, you are well on your way to understanding how to build confidence. Confidence is not something that people are born with, it is something that you must create. Building confidence creates the feeling of certainty that you can achieve what you set out to do. Confidence is like any other emotion. It is something you feel and can train to access it in an instant.
Why is learning to gain confidence important to you? Do you perform at conventions where you interact with a large number of people? Do you run a company or team and need to present a strong sense of leadership? Maybe you've started dating and want to make a good impression when you meet a possible new love interest. The first step in building confidence is knowing why you want to do it.
Once you know your purpose, building confidence becomes a matter of retraining your brain. To achieve your goal, you must present yourself as a confident person. There is no other way to do it.
Ignore the uncertainty that is holding you back. Second guessing yourself will open the door to hesitation, doubt, and fear. As you let go of the negative thoughts holding you back, your body will signal that it is time to stand up straighter, stop being restless and present the most confident version of yourself. Your mind and body begin a cycle of positive feedback, each part noticing the other's increasing authority and building confidence in response.