Visualizing money is important because everyone wants to accumulate more wealth, make more money, and live a prosperous life. However, most people do not know the power that visualizing money or having money carries. Visualization is where many people make mistakes when it comes to the law of attraction. A lot of people have a negative attitude towards money. They have trouble attracting money and wealth in their lives, and as a result, they never achieve the financial success they want.
Visualizing money regularly, correctly, will attract a lot of money to you!
Using what's written above about visualization, others jump to the next extreme. They mistakenly believe that they can just sit back and imagine themselves earning millions of dollars and then wait until their world turns green with cash. But visualizing money in a way that works for you is a skill that you need to perfect.
You can't just imagine the images in your head and think, "Oh! Yes! I like this! While this is appealing for many people looking for shortcuts, it will not work. You should take the time to learn the right visualization techniques, and practice every day.
Your brain is an amazing organ that performs millions of processes every day. If you want to change your way of thinking, you must first know how to visualize then start practicing the technique over and over.
The right technique for getting results when Visualizing Money
The truth is that financial success starts in the mind. Your belief system about wealth and money is key.
With this in mind, applying the Law of Attraction is one of the most effective ways to transform your notions of money into beliefs that will open the way for you to prosper in all you do. However, to get there you need to take some steps to ensure money comes and sticks to you.
1. Recognize your limiting beliefs about money
To activate the law of attraction in your life, you must acknowledge and change your limiting beliefs about money. Throughout our lives, from childhood, we have created limiting beliefs about money that we have accepted over time and accepted as true.
These are things like money "does not grow on trees" and that there is very little of it. There are ideas that seems spiritual such as "money cannot buy happiness" or "you cannot be rich and be a good person."
Before you start applying the Law of Attraction, it is important to identify and eliminate any limiting beliefs about money. These beliefs are functional in your subconscious mind. Your subconscious just runs whatever script is brought to it. Find out more about the subconscious mind.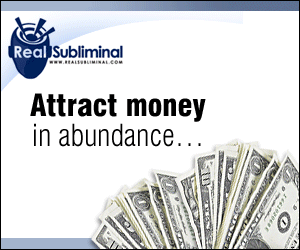 Once you find the money for what it really is – an available, unlimited supply of resources that you can use however you want – it will be easier for you to develop the habits and mindsets needed to acquire wealth.
A great way to get rid of the stigma associated with money is to use a positive attitude.
For example, if you realize that you think money is scarce, then you can use a positive statement such as, "I attract money freely abundantly. I am successful in all that I do."
Or: "I create as much money as I want, and I need to do whatever I want to do in life."
Convince yourself, "I make the right decisions about what to do with my money, and I enjoy the power of prosperity it reflects."
What you tell yourself becomes what you believe, and what you really believe becomes reality. By using a positive attitude to combat limiting beliefs about money, you can develop an attitude about money that allows you to apply the Law of Attraction.
This is a great book on discovering any limiting beliefs and visualizing money!
2. See yourself as successful ALREADY
Firstly, find a comfortable, quiet place where you can focus on what you are doing. Remove all distractions to ensure your are successful. The Law of Attraction says that what you believe in your mind is projected in your outer experience. Therefore, if you want to attract something like money, it is important to describe it as if you already have it.
Sit comfortably or lie down. Start exploring your perfect life – in this case, your perfect financial situation. Focus on your breathing and attitude. If you find your mind wandering, turn your attention back to your perfect life. Keep doing the same exercise until you turn it into something as easy as breathing.
Start visualizing money as if you already have it.
One of the main reasons the rich have no problem getting more money is because they see the money they don't have as on its way to INCREASE THE ABUNDANCE THAT'S ALREADY THERE. More money is attractive to them, but crucially they see the money they already have.
They are not TRYING to be rich, they already are. They are ALLOWING riches and wealth. Its just a God given law that we are either growing or dying. Improvement is a natural part of life.
So if you want to be rich then you have to remove the DESPERATION and visualizing money as already present is key to that.
This kind of mental abundance comes naturally when you have a lot of money, but it can also be formed by visualizing money as something you already have in abundance. Always remember that the mind cannot distinguish between your imagination and your reality.
One thing that I have tried with success is walking around $100 bills in my pocket. I know they are mine even though I don't spend them. I know I can afford to buy a lot of things with them in my pocket. I always feel financially abundant in all things at all times. Though I'm not spending it, I feel abundant. Think of Bill Gates not buying a Lamborghini. He knows he has the money to buy it, but he's just choosing not too.
When visualizing money, start thinking about what life feels like when you have what you want. Keep these images in your mind. Socialize with them until you earnestly feel them. The aspect of FEELING your visualizations cannot be emphasized enough. Your feelings determine your vibration. If you want to learn more about how you can use your feelings more effectively then see this article.
3. Gratitude and Appreciation will attract more money to you
Gratitude is a powerful process. This is more about using feelings as mentioned above.
True gratitude for something tends to remove anything that limits beliefs and makes you more receptive to new opportunities.
By adopting a positive monetary behavior, you can use the law of attraction but do not forget the importance of gratitude.
Be thankful for the money you have. Be thankful for every opportunity to earn more money and be thankful when those opportunities pay off.
Regardless of how much or how much money you are currently earning, a sense of gratitude is essential if you want to earn more.
When it feels like being rich is the next logical step then it must happen.
Here is a ground breaking article on how you can use Visualization to attract money faster! You will wish you had known this sooner.
.
We have a lot of books that we recommend to you if you want to learn more about using Visualizing Money. See the books below.