Money and meditation are two aspects that seem to be far away from each other, yet to get money, meditation is a very effective tool that you can use to succeed immensely. To get anything physically, the spiritual has to be aligned with it.
Meditate, Visualize and Create your reality, and the universe will simply reflect you.– Amit Ray
The balance between spirituality and wealth is very important. Money is a form of energy and can be used for good if there is a positive flow. Having an abundance of money can help others spiritually, emotionally, physically and in all aspects of their lives. Then the give/receive cycle is repeated. The more you give to others, the more it comes back to you.
Conversely, if you are having financial difficulties, you become self-locked and can only focus on yourself and your problems (try to pay the rent, bills, debts, etc.). You cannot see beyond your tension. Some people still have old programming like "Money is the root of evil" which is not useful. You have to reframe your thinking. Money can be a great tool for GOOD. Remember that it is a form of energy that can flow in all directions you want.
Researchers agree that a great way for professionals to increase the chances of success is to keep meditation as part of their daily routine. Studies have shown that transcendent and thoughtful meditation practices improve the brain's problem-solving and decision-making strategies, which can lead to a desirable change in our working lives.
Listen, a meditation on money is not magic. It probably won't make you the next billionaire overnight. (Probably.) But if you increase the power to attract money … Yes, it can certainly help you attract more and more money into your life! And I can assure you that you can increase your attraction right after you finish this article … no matter if you believe in the power of meditation or not !!
First thing first … If you want to learn how to use mediation to attract wealth into your life, you must first control your anxiety about money. Because every time you want money to come faster … it's telling your subconscious or the Universe that you don't have the money now. So the only thing that shows up is "You have no money". Understand?
Ironically … You are probably in urgent need of money right now, so you want to learn how to attract more money into your life. Well, there are two things you can do first of all … Stop thinking about a lack of money. Do everything you can to feel secure about your financial situation. And then you can follow the instructions of this money meditation technique which I will teach you below to attract wealth into your life!
Once the money is raised, it will have a snowball effect. The tension on an issue invites more negative emotions, which in turn attract worse thoughts and harmful emotions. While physical reality cannot be denied, as a life coach, it is my sacred duty to remind you that there is always abundance in the universe.
Remember that God created the universe with everything in abundance. All we need is to use the abundant resource. The most attractive feature is that meditation is free; it can be practiced by anyone and has no side effects. Therefore, there should be no excuse for not enjoying the many benefits and advantages that you are looking for.
In reality, not just money, you can attract to your self, success, money, good relationships, a good career, a new business or whatever is you want.
How do your current thoughts on money make you feel? Do they make you feel happy and free? Or do they make you feel stressed and upset? What a lot of people don't realize is that by thinking about negative thoughts about wealth (thoughts like "I don't have enough" or even playing past negative experiences with money), they stifle their finances instead of attracting abundance.
Our outside world is simply a reflection of our inner thoughts and feelings, which is why it is so important to have the tools to reprogram negative thoughts and feelings. Through meditation, you have the opportunity to create an abundant state of mind so that you can lead a fulfilling and prosperous life.
When we become obsessed with our failures or the past, we often feel stuck and hopeless. Therefore, you must use words that feel good and empowering with yourself. I am not advocating for you to only sit back and meditate on the best of hope, but it is important to add action in what you do.
Meditation reduces stress. Usually, just thinking about money issues brings stress. This anxiety is released to the body. The answer comes with a long-term physical cost. Bodies respond in ways that stimulate the nervous system and evoke several hormonal signals that cause heart rate and blood pressure to wobble and tap. Meditation directly combats reactions to stress, as it has been shown to help reduce heart rate and blood pressure naturally and easily.
Meditation improves concentration. Many meditations focus on the practice of concentration and call upon practitioners to focus on a single word or phrase or to focus on their breathing and draw their attention again and again to this focal point. This allows practitioners to focus better in most life situations, many of which have positive financial consequences.
Meditation increases self-awareness. Many meditative practices also make practitioners more aware of themselves, including the state of their bodies and the nature of their NOW. Often, through this self-awareness, they understand better why they do what they do. This can help those who meditate to become more productive in the workplace, which can directly lead to increases and promotions. They also often gain a better understanding of their bodies, which can often lead to an earlier diagnosis of ailments if they are easily treated. All these factors have a great financial advantage.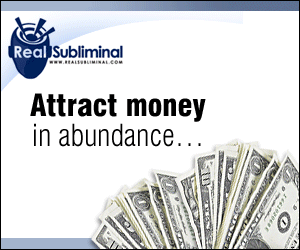 Meditation increases happiness. Meditation has been shown to indicate a higher level of personal happiness in their lives. Oftentimes, people spend money in a variety of ways in pursuit of personal happiness, because they will buy unnecessary items to " stay with the Joneses ", go on expensive vacations or buy luxury items for bringing personal joy. Meditation helps people find more internal sources of happiness, so there is less need or desire to spend money on external sources of happiness.
Get this guided meditation to manifest money!
Money and Meditation: Money is Energy
Do your beliefs and attitudes toward money support your growth? It is essential to identify what you believe to be able to change it.
The myths and beliefs of cultural money support the ideas of constraint, lack and competition. If you fail, fear becomes your companion. If you succeed, fear is always your shadow, because you can always be wrong. Money becomes the enemy and you are the victim.
There is another way to be with money. Ignore the cultural myths surrounding money and find out what it is: ENERGY. Money is simply the exchange of energy. When you use your debit card or money to buy something, you are trading energy for something of value (which is also energy).
If you don't have enough money for something you want, it's because you don't have as much energy to trade. No guilt, shame or judgment. And certainly – NO fear!
If you want this thing to be bad enough, you will find a way to increase your energy levels for trading. It's simple, right?
An easy way to remember that money = energy is: MONEY is my natural return. Providing a service or product is your return. If you pay with what you have produced, it is because of your return. If your yield is lower than what you want, you produce more. That's all the energy!
Meditation is a way to reconnect with life by staying in the moment. No judgment. No waiting. Be pure and simple. Meditation clears the clutter of the mind, connects to a larger source, and aligns your body, mind, and spirit. The combination of these two practices, centred on the energy of money, creates a powerful synergy.
Perhaps you are already practicing meditation, or are just thinking about trying it for the first time. Either way, guided meditation to attract money can be done by everyone. It's a great way to put your mind into the reality of your abundance, to create positive emotions about wealth, and to give you a more vivid picture of what it will be like to set your goal.
Also, meditation has dozens of other scientifically-proven benefits, ranging from stress management to increased empathy, lower blood pressure and better mental health. You probably won't get large sums of money overnight, but you can create the conditions necessary for wealth almost overnight.
Being abundant begins with thinking abundance. If the feeling of abundance seems out of reach, we must first recognize that many of us have a lot of financial anxiety and uncertainty – not only because of our education but also because of the stories of the world.
Energy is currency
Everything we think about affects how we percieve money, and it is this feeling that gives energy. This energy supports or harms our ability to earn. Energy is the currency. If we are to use our energy to earn more and have financial freedom, we must get rid of our negative beliefs about money. Dr Wayne Dyer said, "When we change the way we see things, the things we look at change." As we change our faith and the way we think, we remove barriers that prevent abundance and begin attracting financial freedom. The first step to erasing blocks is to become aware of them.
"Money meditation" is one of the easiest ways to strengthen your positive beliefs about money while channeling wealth and abundance.
With this meditation, you can align yourself with the immense God given powers. You can learn to define the universal laws, especially the law of attraction, in a way that can benefit you and your loved ones in the best financial way. While you meditate, your mind will be free from the noise and distractions of the outside world.
It will also help you visualize the money, abundance, wealth and success in your life. A silver meditation will not only help you to reveal your deepest desires, but it can also help you discover all the blocks to achieve abundance in your life.
Combining your desire more money and meditation can help you manifest your greatest desires and discover the blockages that prevent you from achieving abundance in life. These blocks of abundance can come from past events, negative experiences with money, or even negative energy from other people or traumatic situations.
"The more man meditates upon good thoughts, the better will be his world and the world at large." – Confucius
Money Meditation
Firstly get into a comfortable position,
Relax by breathing deeply and slowly
Focus on your breathing , feeling every inch of your body as you inhale and exhale
Now allow yourself to think about the words prosperity, financial freedom, money and abundance.
See yourself as a giant ball energy that is magnetizing money to you.
What does it look like to be prosperous?
Let your imagination paint your picture of abundance.
As you see yourself living inside this vision, just notice if there are any disempowering thoughts or beliefs that come up.
Maybe a hesitation to imagine what it is you really want.
Whatever thoughts or beliefs might be there, simply identify them, and on each exhale, imagine yourself breathing them out, releasing them from you.
Breathe them out,
Exhale and release.
Do this for as long as you like. The more you do it the better. As long as it feels good, do it.
Learn more about manifesting with the power of meditation to manifest money by visiting this article.